The Reviews, Interviews and Articles Are In!

---

4-Corners Free Press Article January 2018 ...
Beau knows Louis L'Amour Prose and Cons
January 1, 2018
C. Joseph Greaves


"This book may drive you crazy."

So begins Beau L'Amour's Introduction to Louis L'Amour's Lost Treasures, Vol. 1, a 500-page compendium of his late father's unfinished manuscripts, treatments, and notes. But in this, Beau misleads. Truer to have written, "This book will make you a Louis L'Amour fan for life, and if you're already a fan, it will give you unprecedented insight into the creative process that made him one of America's most popular storytellers. . ."
---
Son of Author Louis L'Amour Reflects on His Father's Legacy ...


An Audio Interview - CLICK HERE to listen . . .



---
Santa Fe writer Johnny D. Boggs, a seven-time Spur Award winner from the Western Writers of America (WWA), said, "They say he wrote as if he were at a campfire or sitting on a stone, telling a tale. He made the land a character, and his descriptions are usually dead-on. I've never opened a Louis L'Amour novel that I stopped reading until I was finished."

Beau L'Amour - provides a compelling glimpse into the mind and method of the man who's rightly been called America's storyteller.

... a mystical novel of adventure
... a tale of supernatural horror
... a treasure-quest novel of Turkish intrigue
... swashbuckling tales of foreign adventure
... classic hard-boiled noir
... Many others, of course, are quintessentially Western

Each comes rimed with the frost and dust of the rugged frontier, yet all evidence the sort of deeply immersive research that is found in the best historical fiction.
---
Selections from over 50 Amazon.com Reviews ...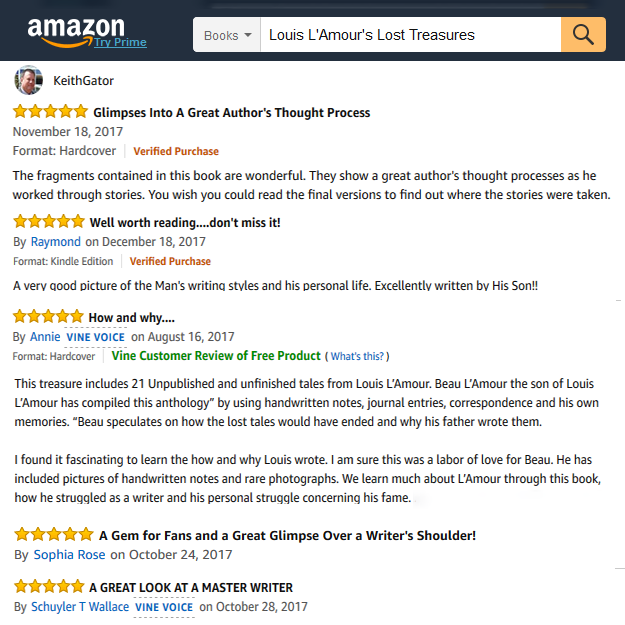 Over 80% 4-5 STAR reviews!
---
Booklist Review October 2017 ...



BOOKLIST:
Lost Treasures, v.1: Unfinished Manuscripts, Mysterious Stories, and Lost Notes from One of the World's Most Popular Novelists. L'Amour, Louis (author) and Beau L'Amour (author).

Oct. 2017. 544p. Bantam, hardcover, $28 (9780399177545); e-book (9780399177552).

Before his death in 1988, Louis L'Amour published hundreds of short stories and more than 90 novels, mostly in the Western genre. He wrote every day for decades and left behind a lot of unpublished material in various stages of completion; his son, Beau, is collecting and annotating the collection. This first volume contains more than 20 previously unseen works, including the first chapters of a horror story set in the Old West; a section of a biographical novel about Canadian politician Louis Riel; the opening of a contemporary-set adventure novel; and a treatment for an unproduced television series, written in the 1950s. We see L'Amour experimenting with different styles of writing and with different ways to get a story going; we see him start a story that shows promise, only to abandon it in favor of a different story that's been percolating in his always-active imagination. Beau L'Amour makes a point of letting us know there are no plans (with perhaps a few exceptions) to finish the incomplete works; he prefers to let them remain as they are, as written by his father. For L'Amour's many fans, this is a valuable addition to his literary legacy. -- David Pitt
---
Selections from Goodreads.com Reviews ...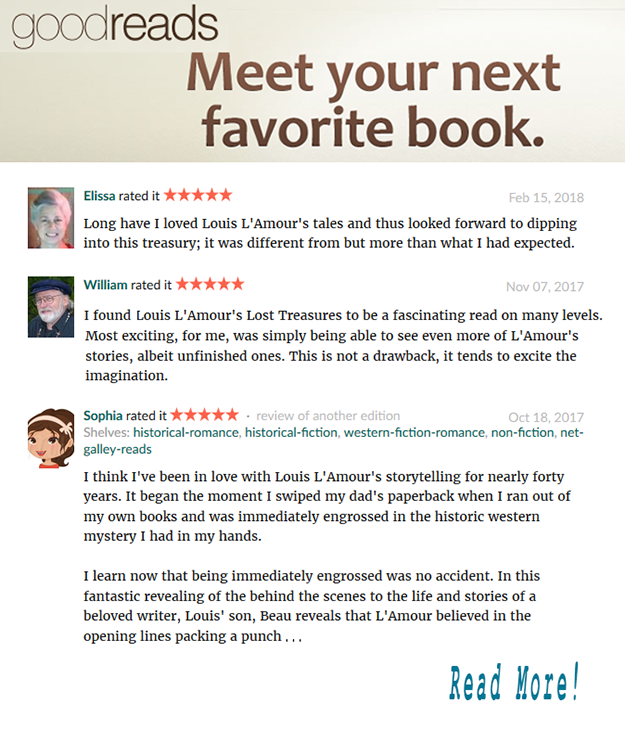 ---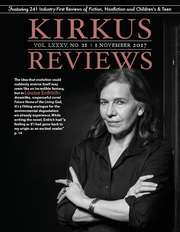 Kirkus Review November 2017 ...



" ... he tried his hand at the intersection of Westerns and horror but also played with science fiction, historical fiction, even variants of romance and literary fiction, examples of all of which abound in this gathering of provisional work. Often he achieved nicely atmospheric effects that wouldn't be out of place in Hemingway ... "
---


The Reading Frenzy Review October 2017 ...



" ... Louis L'Amour's Lost Treasures Vol. 1 was a feast for a fan like me. First there was a fantastic discussion and trip back into the past where I got to meet the writer through his son's eyes. This included his early years, his thoughts on writing, his fails and successes. Then, Beau L'Amour shares samples of the stories that didn't make the cut for one reason or another, the outlines and interest letters with story outlines to publishers and movie makers, and drafts. Along the way, there are photographs, notes, letters to pour over... " -- Sophia Rose




---