The Reviews, Interviews and Articles Are In!

---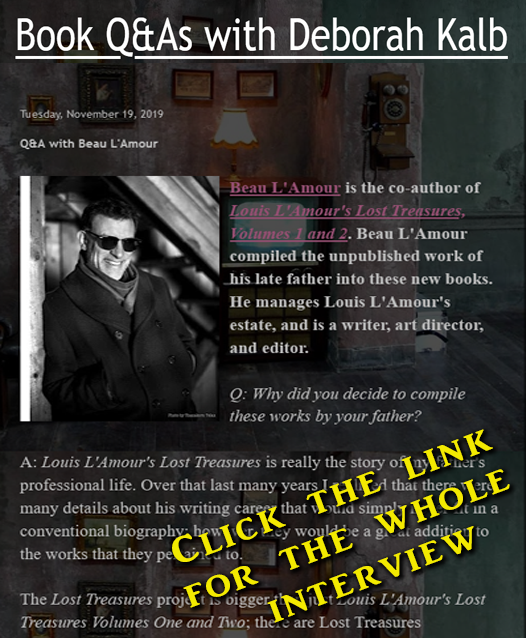 ---

4-Corners Free Press Article November 12, 2019...
He started it
November 12, 2019
C. Joseph Greaves


In his introduction to Louis L'Amour's Lost Treasures, Vol. 2, the second volume of his father's unfinished or previously unpublished stories, novels, notes, and film and television treatments, editor and co-author Beau L'Amour writes, "[W]hat you see here was only a failure of longevity, for Dad intended to permanently abandon very few of these ideas. 'Found several good story openings,' he wrote in 1976, '. . . and once the opening is written, the story is mine forever.'"
---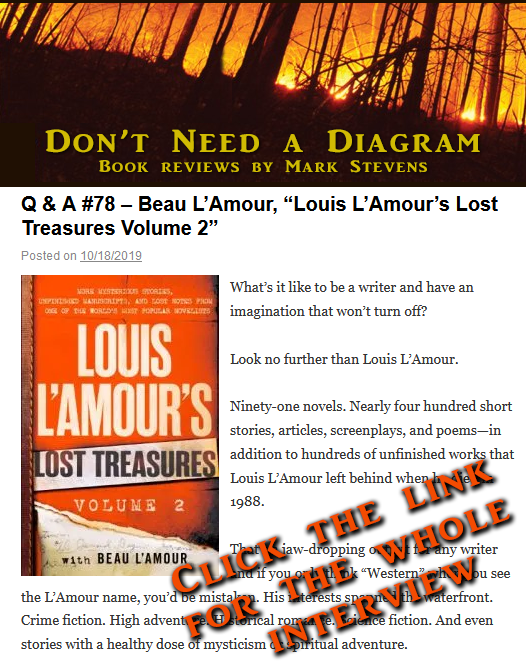 ---
Booklist Review October 2019 ...



BOOKLIST:
Louis L'Amour's Lost Treasures, v.2: Mysterious Stories, Lost Notes, and Unfinished Manuscripts, from One of the World's Most Popular Novelists. L'Amour, Louis (author) and Beau L'Amour (author).

Oct. 2019. 576p. Bantam, hardcover, $30 (9780425284926).

The success of the late western writer Louis L'Amour paralleled the growth of U.S. publishing in the twentieth century, from dime novels to magazine serials to paperbacks sold in bookstores. His first novel, No Traveller Returns (2018), finished by his son, Beau, displayed the skill that made him famous. This second volume of "lost treasures" (after Lost Treasures, v. 1, 2017) contains unfinished and unpublished work-proposals, ideas, science fiction, crime stories-that reveals L'Amour's extensive imagination, curiosity, and determination. He called all his work "frontier stories," no matter where they were set - his protagonists travel all over the world and beyond - and he wrote whatever he thought would sell. Fame eluded L'Amour until the 1960s, when he perhaps best understood his audience. Now he is known as the storyteller of the American West. Fans, present and future, who sample L'Amour's writing here will be struck by his apparently effortless prose and characterization, his prodigious output, and how experimenting shaped his writing. -- Jeanne Greene
---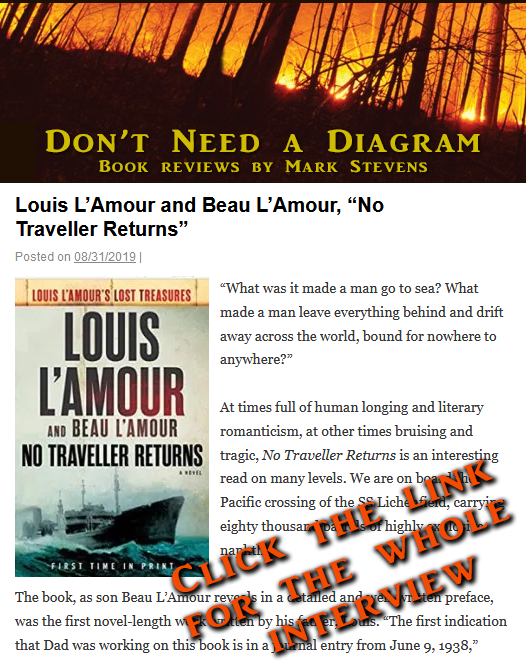 ---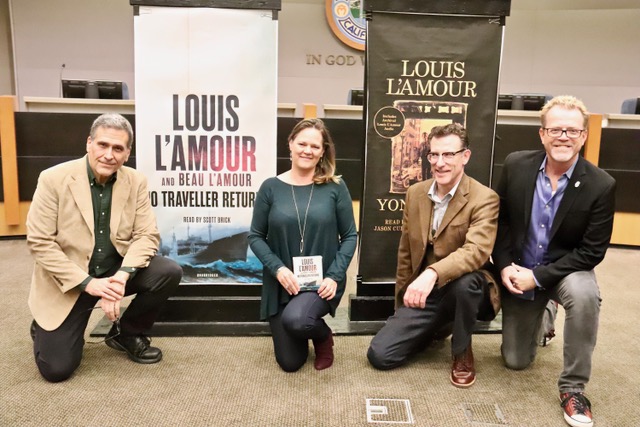 Join Beau L'Amour, Scott Brick and Jason Culp and spend an couple of hours discussing the creation of Audio Books and in particular their work on Louis L'Amour's YONDERING (updated Lost Treasures Edition) and his never before released first novel, NO TRAVELLER RETURNS. Jason and Scott read excerpts from the books and give real world, expert advice and inside insight on the process of creating best selling audio books while Beau shares the true life background and experience that inspired the creation of these stories.
---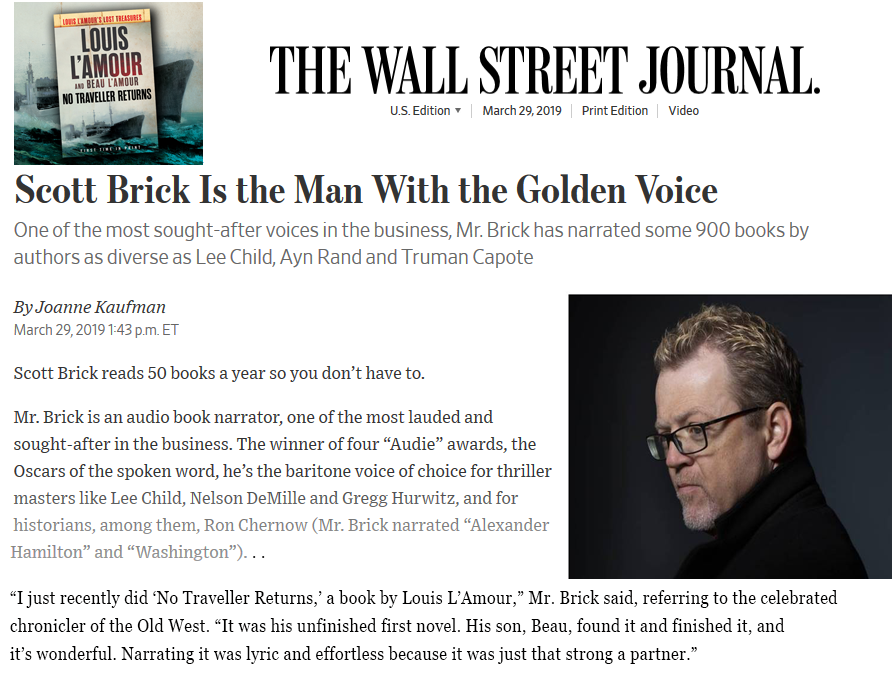 From the pages of
THE WALL STREET JOURNAL
---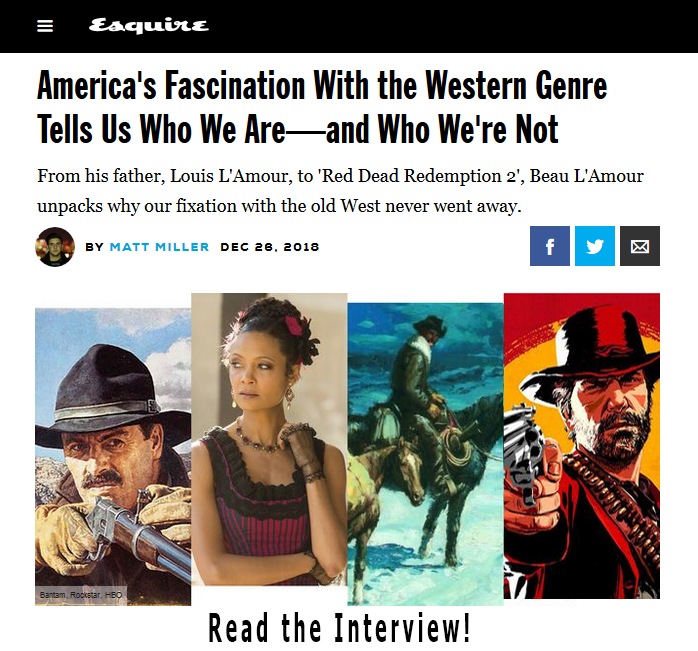 From the pages of
ESQUIRE MAGAZINE
America's Fascination With the Western Genre Tells Us
Who We Are - and Who We're Not
From his father, Louis L'Amour, to 'Red Dead Redemption 2', Beau L'Amour unpacks why our fixation with the old West never went away.

Shortly after his father, Western author Louis L'Amour's death in 1988, Beau L'Amour found a large room filled with loose papers and books.

"There was just all kinds of incredible stuff. It was just piled up almost at random and there was kind of a little path about 14 inches wide that led to his desk," Beau said of what he found in L'Amour's writing room. "Then there was an area about four feet around where he could turn his chair around and stuff."

It's in that room where Beau found that one of the most prolific and popular writers of all time still had stories to tell.

Read the Interview ...
---
Author to Author Interview
"Bill Kenower welcomes author Beau L'Amour to the show. Beau is a writer and entertainment industry jack-of-all-trades. He is the son of bestselling novelist Louis L'Amour and has managed his father's literary estate since 1988. Striving to maintain that legacy, he has done editorial work, revised unfinished manuscripts, managed a literary magazine and an audio/radio drama series, done art direction, been a comic book writer and producer and become an expert in marketing. In the years since his father passed away L'Amour has helped sell over 120 million books, nearly 5 million audio programs and placed a number of books of short stories (out of 16 posthumous collections) on the Best Seller lists. Should be awesome!"
---
No Traveller Returns
"Superb"
I've always loved the Western Novels of Louis L'Amour. After reading this novel of the Merchant Marine I'm saddened that he did not continue to write in this venue.
Having severed in both the Merchant Marine and US Navy I found the book both factual full of memories of ships and the men who go to sea in them.
I'll be forever grateful to Beau L'Amour for his finishing this novel. My only regret is that it ended to soon, and that there will be no more.
"Insightful to fans of Louis."
This book is very insightful to me. His description and obvious love of the sea, as well as his thought processes outlined by the writing of several different interactions between people, shows so much about many of his other novels. "The walking drum." the far blue mountains." "Sacketts land." and several of his short stories are all reflected here. Many of the sayings and the beliefs he expressed in his books are reflected here. But what I liked most, was the insight into his mind.

In all, an outstanding novel for people who are fans of Louis. I dont know if people would enjoy if they were not fans of louis, or at least not to the extent I did, but they might.
"Captivating, deep,
complex and contemplative!"
Is it the masterful storytelling of Louis L'amour, the brilliance of Scott Brick's narration, or the careful, guiding, intuitive hand of Beau L'amour that make this book great?

The answer is a resounding 'yes' to all.

THE STORY:
Gripping, real, complex, deep and more. If this was completed and published in its day, it should have been a classic work, much along the lines of Herman Wouk's "The Caine Mutiny". You are THERE. You are on the ship . . . The writing flows, yet leaves no salient detail without description, it draws you in and it sits you down by the fire to hear a story in Louis' exceptional way.

THE NARRATION:
In my opinion, there was no one else that could have done this story justice as Scott Brick did. His amazingly unhurried, yet not ponderous fashion of narrating the story...told it! ...

SUMMARY:
Beau L'amour has paid his debts to his father with this work! (Assuming there were any left!! Thank you Beau for carrying on your father's work and sharing him with the world! :-) What a tribute! This work is Louis L'amour. . . .

If you are a Louis L'amour fan, this is one you cannot pass up!
---
No Traveller Returns
(A starred review in PW indicates a book of outstanding quality.)
Louis and Beau L'Amour. Bantam, $28 (256p) ISBN 978-0-4252-8444-5
"As Louis L'Amour's son, Beau, explains in an afterword, he has taken the "roughly patched" segments of what would have been his father's first novel and turned them into a highly entertaining nautical adventure. The narrative focuses on the 33 men who comprise the crew of the tanker SS Lichenfield, which is carrying a cargo of highly explosive naphtha from Los Angeles across the Pacific in early 1939. L'Amour (1908-1988) drew on his experiences as a merchant seaman and those of his fellow sailors to create characters such as Dutchman Pete Brouwer, who's always planning to return home but never making it; Tex Worden, the lone survivor of a shipwreck; and thoughtful Second Mate John Harlan, who delivers some of the book's best lines (e.g. "a very slight change in atmospheric conditions or a difference of a few degrees of temperature, and we might no longer exist"). The fate of the ship and its crew matters less than the characters' often conflicting relationships. Beau L'Amour has done his father's fans a service by showcasing the future bestselling author's already developed storytelling and mature insights into human nature. (Oct.)"
---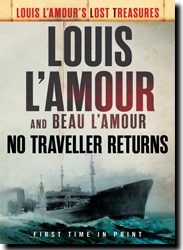 THE WALL STREET JOURNAL
"L'Amour is popular for all the right reasons. His books embody heroic virtues that seem to matter now more than ever."
---

---

The November 9, 2018 interview of Beau L'Amour
with Randy Dotinga


L'Amour never published his first novel, 'No Traveller Returns,' which draws upon on his early life at port and at sea. Now the novel is being released for the first time with the help of his son, Beau L'Amour, as part of a series of 'Lost Treasures.'
Read it now!
---

4-Corners Free Press Article January 2018 ...
Beau knows Louis L'Amour Prose and Cons
January 1, 2018
C. Joseph Greaves


"This book may drive you crazy."

So begins Beau L'Amour's Introduction to Louis L'Amour's Lost Treasures, Vol. 1, a 500-page compendium of his late father's unfinished manuscripts, treatments, and notes. But in this, Beau misleads. Truer to have written, "This book will make you a Louis L'Amour fan for life, and if you're already a fan, it will give you unprecedented insight into the creative process that made him one of America's most popular storytellers. . ."
---
Son of Author Louis L'Amour Reflects on His Father's Legacy ...


An Audio Interview - CLICK HERE to listen . . .



---
Santa Fe writer Johnny D. Boggs, a seven-time Spur Award winner from the Western Writers of America (WWA), said, "They say he wrote as if he were at a campfire or sitting on a stone, telling a tale. He made the land a character, and his descriptions are usually dead-on. I've never opened a Louis L'Amour novel that I stopped reading until I was finished."

Beau L'Amour - provides a compelling glimpse into the mind and method of the man who's rightly been called America's storyteller.

... a mystical novel of adventure
... a tale of supernatural horror
... a treasure-quest novel of Turkish intrigue
... swashbuckling tales of foreign adventure
... classic hard-boiled noir
... Many others, of course, are quintessentially Western

Each comes rimed with the frost and dust of the rugged frontier, yet all evidence the sort of deeply immersive research that is found in the best historical fiction.
---
Selections from over 50 Amazon.com Reviews ...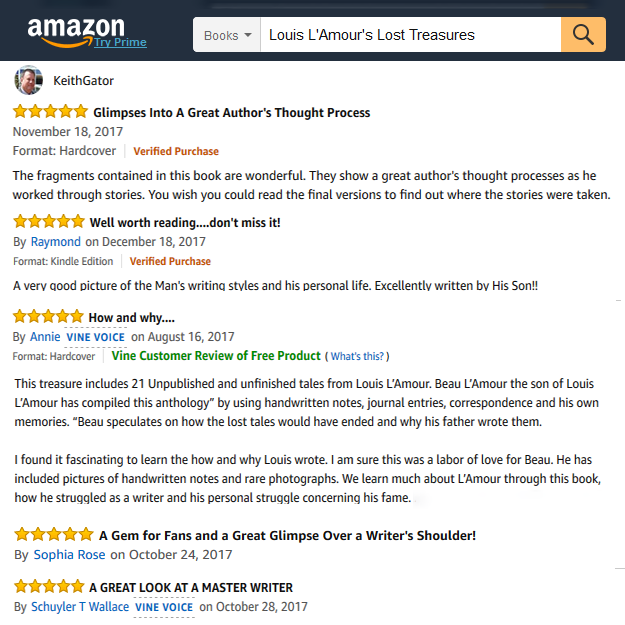 Over 80% 4-5 STAR reviews!
---
Booklist Review October 2017 ...



BOOKLIST:
Lost Treasures, v.1: Unfinished Manuscripts, Mysterious Stories, and Lost Notes from One of the World's Most Popular Novelists. L'Amour, Louis (author) and Beau L'Amour (author).

Oct. 2017. 544p. Bantam, hardcover, $28 (9780399177545); e-book (9780399177552).

Before his death in 1988, Louis L'Amour published hundreds of short stories and more than 90 novels, mostly in the Western genre. He wrote every day for decades and left behind a lot of unpublished material in various stages of completion; his son, Beau, is collecting and annotating the collection. This first volume contains more than 20 previously unseen works, including the first chapters of a horror story set in the Old West; a section of a biographical novel about Canadian politician Louis Riel; the opening of a contemporary-set adventure novel; and a treatment for an unproduced television series, written in the 1950s. We see L'Amour experimenting with different styles of writing and with different ways to get a story going; we see him start a story that shows promise, only to abandon it in favor of a different story that's been percolating in his always-active imagination. Beau L'Amour makes a point of letting us know there are no plans (with perhaps a few exceptions) to finish the incomplete works; he prefers to let them remain as they are, as written by his father. For L'Amour's many fans, this is a valuable addition to his literary legacy. -- David Pitt
---
Selections from Goodreads.com Reviews ...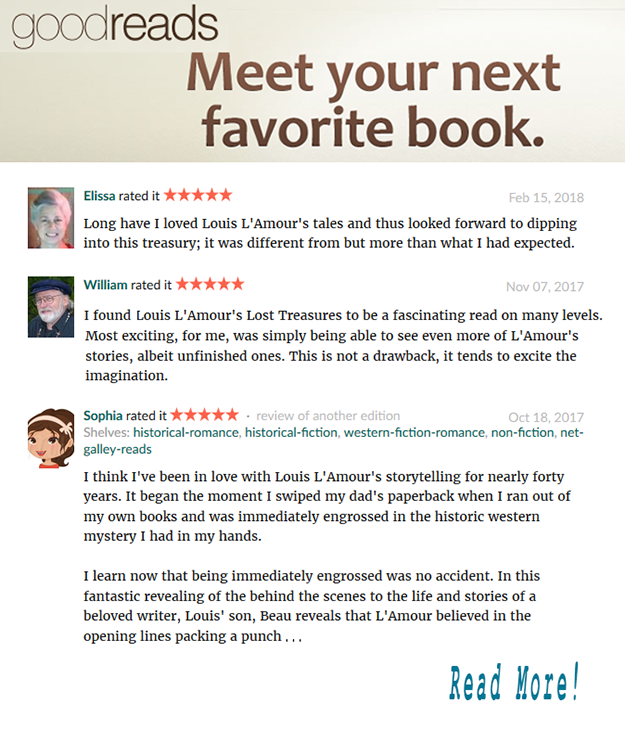 ---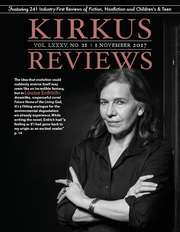 Kirkus Review November 2017 ...



" ... he tried his hand at the intersection of Westerns and horror but also played with science fiction, historical fiction, even variants of romance and literary fiction, examples of all of which abound in this gathering of provisional work. Often he achieved nicely atmospheric effects that wouldn't be out of place in Hemingway ... "
---


The Reading Frenzy Review October 2017 ...



" ... Louis L'Amour's Lost Treasures Vol. 1 was a feast for a fan like me. First there was a fantastic discussion and trip back into the past where I got to meet the writer through his son's eyes. This included his early years, his thoughts on writing, his fails and successes. Then, Beau L'Amour shares samples of the stories that didn't make the cut for one reason or another, the outlines and interest letters with story outlines to publishers and movie makers, and drafts. Along the way, there are photographs, notes, letters to pour over... " -- Sophia Rose




---